Bitcoin has done a sloppy and convoluted version of buy the rumor / sell the fact after the launch of BITO, the much-hyped and maligned bitcoin futures ETF. Despite a second-day push to new ATH, there are now two cascading failures.
1. Failure to hold above ATH.
2. Failure to hold old range bottom $60,000.
You can see in the market profile below that a major equilibrium zone $60k/$64k had developed. A majority of the volume in the last two months was transacted in that band.
Bitcoin market profile, October 14 to today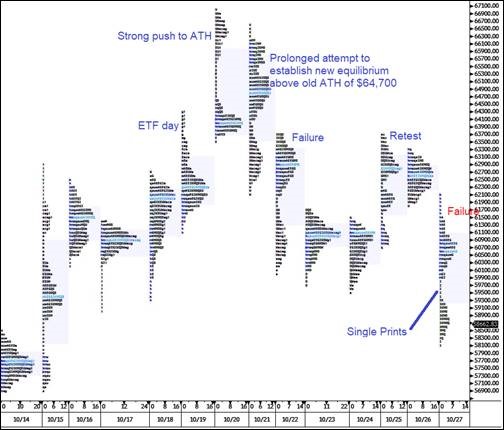 Single prints are areas where price spent little or no time. They signify that there was never equilibrium at that price as bitcoin gapped lower through the zone. That area becomes a critical pivot going forward. 59500 / 59800 now important micro time frame resistance. For a full masterclass in market profile analysis, click here.
Jon Cheesman has pointed out repeatedly that the story these days is primarily about anticipated flow and the way that speculators get ahead of, and interact with that flow. Institutional flows will continue and buy the dip will position you for the next hype cycle. Right now, we are between hype cycles for BTC as BITO is in the rearview and the SHIB vs. DOGE dogfight is top of mind.
Worst case scenario for bulls (and best case for greedy dip buyers) is a pullback to the $41,000/$42,000 pivot. I doubt we get quite that far, but it makes sense to leave some bids in the $45,000 area just in case. I think we're in for a wide consolidation 45k/65k.
BTC fails above ATH, new wide range $45,000 / $65,000
Thanks for reading.
Brent Donnelly