Someone please tell the AI:
This isn't cute…
and it's barely a rabbit.
This is not what I asked for at all.
---
Current Views
---
Short CADJPY @ 98.05
Stop loss 100.28
Take profit 93.28
December 30, 2022
---
lo-fi nerdcore
---
You can watch today's am/FX as a video here.

Or listen to the audio on the web, Spotify, or Apple.

Thank you for rolling with Spectra in 2022!

Two / oh / two / three beckons. Make it your best year ever.
---
2022: Year in Review
Yesterday's price is not today's price.
Damn right the price in '21 ain't the same in '22. All the charts look like mountains. Disruption™! Work from home! … Was too good to be true. Fake worlds killed off Facebook; fake meat killed Beyond. Ponzi coins killed crypto summer right after it dawned. Fake messy-haired messiah, the new Warren Buffet / no stop loss for Caroline, she went all in 22 bid—tried to bluff it. Now she's gotta turn on her boy or go to prison and rough it.
Caroline Ellison presents: The worst spoof of all time
Party in 2021 hangover in '22. The calendar flipped. Chair Powell declared from his most-esteemed lips.
"All that has ripped, going forward, shall dip."
Long live TINA, TINA is dead, she went down to Goblin Town thanks to the Fed.
Fed hawkish pivot, find a bid and give it. Don't you remember dotcom? Oh wait… You're 30 … You didn't live it. Well, I did. And '21 was kinda the same but more like a sequel / the same movie new actors / same script / different but equal … But you know '21 so let's talk '22. Here's a summary of what happened, my year in review.
They told me not to rap about macro no more. Gitts said I can't rap about crypto no more. But just think of me as a slightly older Macklemore … What, you think I can't talk and rhyme as if Dr. Seuss and Eminem had a baby one time? Yes, my verbal gymnastics are a crime. Yes, I'm well past my prime. Yes, I'm old enough to know all the words to songs by Sublime. But so what / my rhymes like razorblades cut / and it's just a few minutes of your time.
Lemons don't sink (in contrast to limes.)                          Brrt Brrt.
In May, Powell said 75 not actively considered, but then, yikes! Three 75-point hikes. It's like when that girl said she'd go out with you in grade 9, then said "psych!" It was a rug pull of sorts by the Fed as they worry about future prosperity and rug investors in risk parity. Shooting down 60/40 returns just like Jeremy.
And sure 60/40 got killed, but not global macro. They be throwin' their hands up in the air and screaming: "We're finally back, yo!" And they cheering and shaking their sacroiliac, yo.
And guess what else is back? The greenback … And fiat. If it cost us two trillion in crypto market cap, so be it. Let the latecomers flee it. Everyone loves to rag on the dollar but its performance was baller. No poppy was taller.
And I suppose in hindsight we should have listened to Waller when he floated QT late last year and stocks fell from day one and the correct allocation to risky assets was… None.
Zero stocks, zero bonds, zero coins, real or fake. No high yield, zero AAPL, no TSLA; they all sank. But nothing smelled up portfolios like ARKK's flaming brown stank. Interest rates are to asset prices what gravity is to the apple. The disciples of ARKK have all fled from the chapel. Money flowed like Champagne from a fountain, but now the PTON races down the far side of the mountain.
ARKK 50 to 160 to 35—but who's countin'. They're just numbers on a screen, they're just prices.
Eurozone energy crisis, skyrocketing oil prices. Zelensky's man of the year. The honor went to Musk last time and now he's leveraging up his last dime and hoping the SEC won't prosecute past crimes. Magazine cover: the contrarians love her.
UK pension funds threaten truss, they hang like a sword of Damocles. Bringin' Kwarteng to his knees. Oh brother. He's gotta be fired or gilts won't recover. This plan can't be serious? no Plan B? this can't be. The plan is dead. Shot down by bond vigilantes. They ate up her fiscal plan like lettuce with fava beans and an expensive chianti.
Cash is king. The dollar rises and plenty of other surprises. Like the MOF caps USDJPY at 150 and the JP Morgan of crypto is mad shifty. Shifty AF in fact, it looks even worse. He stole gambling money from the customers' purse. And they said that he'd never get charged / cuz this or cuz that / but now prosecutors like a Mack truck window and SBF like a gnat. Going splat. Look at that.
We all lost our minds. The world went ballistic.
"This guy's futuristic. And he's so altruistic. He's not like those tech bros, they're so egotistic. He's such a character, it's like almost…"
Unrealistic?
Then, the beginning of the fall. Some writing on the wall with his chat on Odd Lots and his accurate thoughts on DeFi's magic box.
"But we love his hyper and talkative mood. It must surely exude from the soy vegan food. And I love how he rocks those wild locks and tube socks. What a cool dude."
But the tide has gone out and we see he swam nude.
We were deluded / FTT was diluted. The ecosystem was fully polluted. Clowns to the right of us, jokers to the left, there were plenty of villains, beyond SBF. There was 3AC and LUNA (Do Kwon), and the guy with the tattoo and Mr. "irresponsibly long".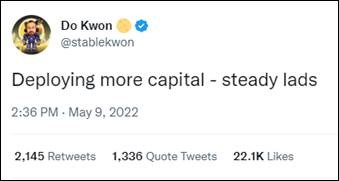 Anyway, that was last year, now it's a new year, let's see.
And FD: This word salad was not written by GPT3. But have no fear I'll be replaced by AI by this time next year.
That's it for me. Good luck and have courage in two oh twenty-three.
---
Final thoughts
---
See you next year!
good luck ⇅ be nimble
---
Chinese New Year is January 22, 2023.
It is the Year of the Water Rabbit.
Here are four AI-generated images using two prompts.
"Water rabbit cute happy joy" and "Water rabbit dark sad fear"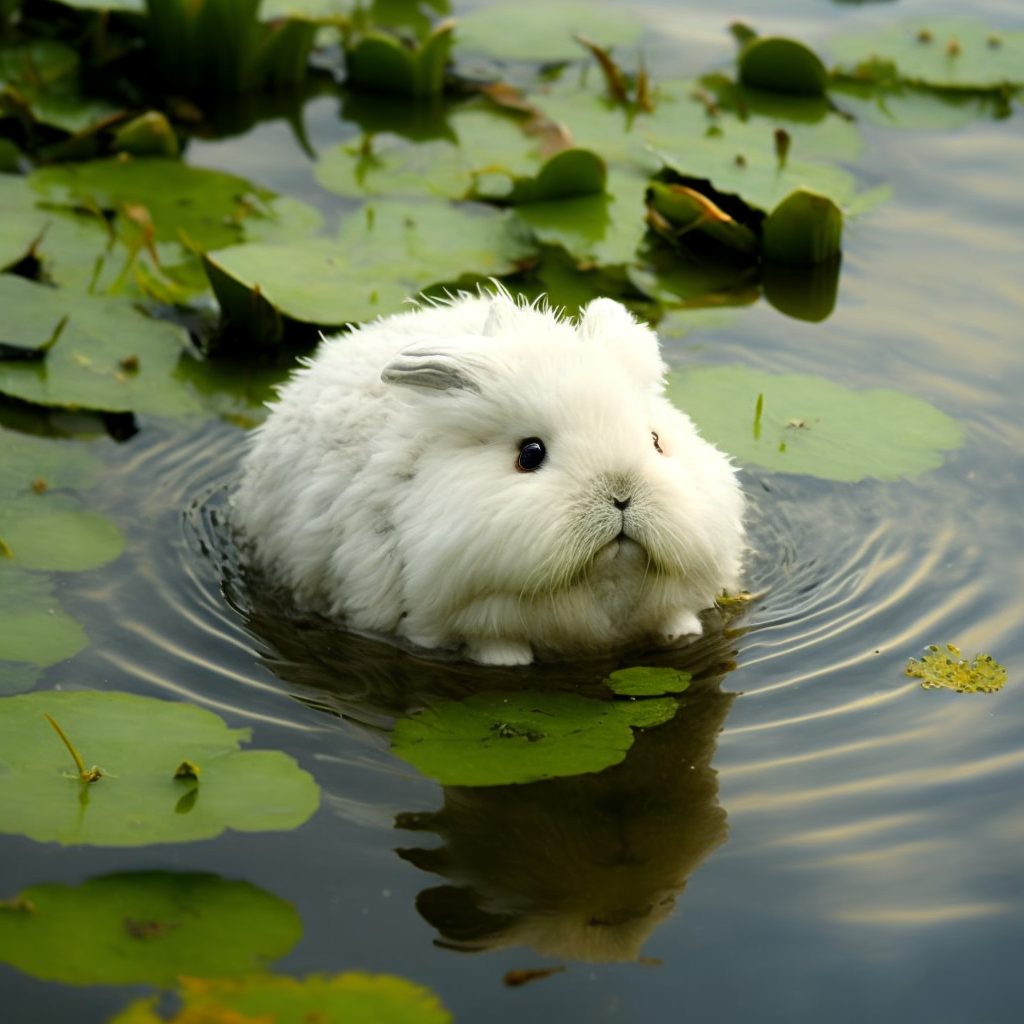 Each images is mildly disturbing in its own special way…  :O