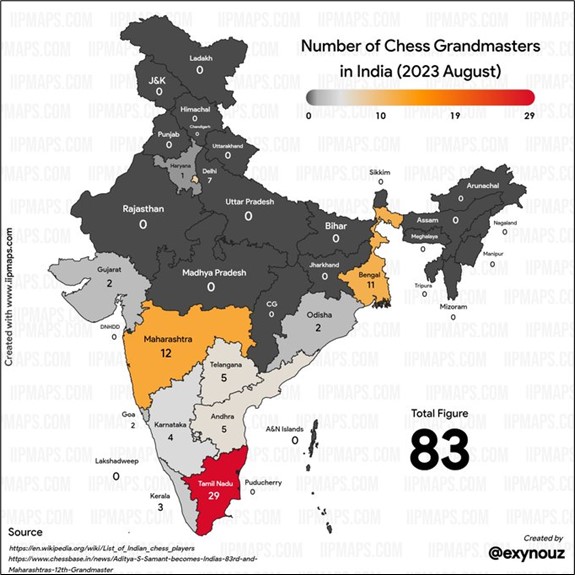 Density of chess grandmasters in India
---
Current Views
---
Long 06SEP AUDUSD 0.6550 call
~18 pips off 0.6495 spot
One trade, four components
Long AUDUSD 0.6435
Stop 0.6344
Long NZDUSD 0.5945
Stop 0.5884
USDSEK and USDJPY stopped out
August 30, 2023
---
Rapidly Normalizing
---
Tomorrow, I head to Canada one more time as we transport my son to university. As such, am/FX returns next week. Given that reality, I am writing about nonfarm payrolls today. The JOLTS number got the headlines yesterday, but I think the real story was the Consumer Confidence number and particularly the internal components. Let's look at a few reasons it seems to me the US jobs market is rapidly normalizing.
Conference Board survey, jobs components
The Jobs Hard to Get vs. Jobs Plentiful differential in the Conference Board survey showed a two standard deviation MoM drop in the labor market in August. If you take the jobs components of the Consumer Confidence survey, they correspond well to the miss in NFP. Whenever I'm modelling stuff like this, I am always looking to solve for the miss in NFP, not the number itself.
If you look back to 1998 and compare changes in the Conference Board jobs indexes to the miss in NFP, you get the following:

We are well within quintile 1 this month. The smooth flow from bottom to top is a good sign that this isn't a random result. It's more likely evidence that the jobs components contain information not reflected in economist surveys because those components are released just a few days before NFP and thus don't get incorporated into forecasts.
ISM Employment Indexes
The ISM Employment Indexes should be factored into economist expectations, but they don't seem to be. Here's the breakdown using the same approach. This one isn't quite as smooth, which makes sense because we are using 1-month old data here comparing last month's change in ISM jobs components to the current month NFP. Still, the drops in ISM employment tend to predict weaker NFP.

NFP revisions
The third factor to consider is that the past six NFP revisions have been to the downside. Revisions momentum is strongly associated with actual momentum in the jobs market. When total 6-month revisions are below -200 and when revisions are negative six months in a row, NFP beats 42% of the time. If you look at all the data from 1998 to 2023, NFP beat 48% of the time so this is not an epic readout but it's another clue. Maybe NFP will be the final piece of that puzzle.
How to trade it
This is all probabilistic and looks something like a 60/40 bet to me with good asymmetry and positive EV because a normalization / goldilocks NFP should take another big chunk out of the yield fear story and pump oversold currencies like AUD up and away.
The simplest way to play this is to buy 1-week 0.6550 AUD calls for around 17 pips off 0.6495 spot. I am adding this to current views, even though I already have an AUD spot position. This direction is bolstered by the recent ongoing and persistent strength in gold and my expectation that the huge triangle in copper will resolve to the topside.
After ripping up out of the falling wedge, gold is also approaching the apex of a large triangle.
Gold daily, January 2023 to now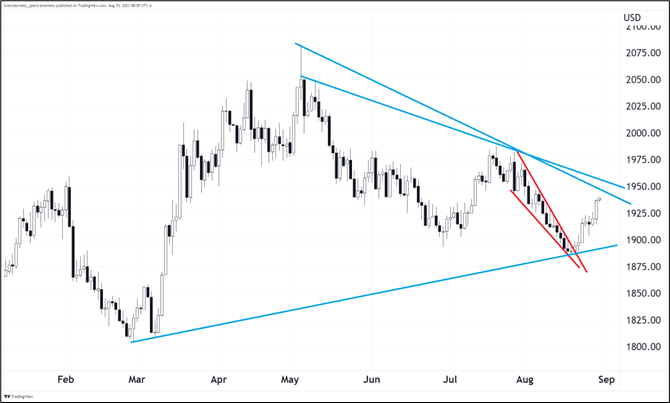 ---
Final Thoughts
---
I stumbled upon that chart below yesterday and found it surprising. I had no idea how that Chinese consumer spending was that far below the global average. I suppose when you are focused on infrastructure, the consumer is going to be a smaller share of the economy.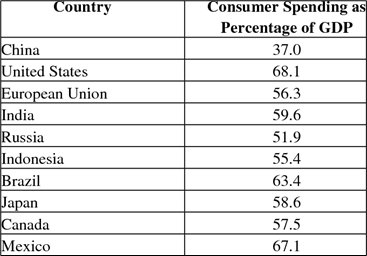 This Bloomberg "FX in Focus" event looks pretty sweet. Features Michael Bloomberg, John Williams (Fed), Nowara Munir (from MassFi)  and Torsten Slok (Apollo) among others. I have no relationship to anyone running this, I just think it looks good, and it's a minimal time commitment, so I signed up. If you go, find me, and say "Hi". Thanks to am/FX subscriber RI for giving me the heads up on it. The am/FX community comes through yet again.
Hope your labor/labour Day weekend is jam-packed with successful gambits.
good luck ⇅ be nimble
---