MacroTactical Crypto #22
The Next Two Weeks Are Critical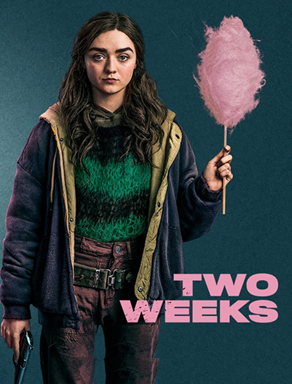 You can listen to this episode right here.
Thanks to everyone who pays hard-earned cash money to read MTC. I truly appreciate it!
---
Today's note is 1,500 words (6-minute read)
The next two weeks are critical
The most stunning feature of this bear market in crypto is its monotonic relentlessness. There is no sneaky underlying bull narrative to occasionally catch the market short. Nobody cares how oversold things get. The bounces are miniscule. What was once a massive flood of FOMO money trying to get in is now an equally raging torrent the other way.
Recent news that Three Arrows Capital is struggling and unconfirmed reports that it may be insolvent is the tip of the iceberg as many smaller funds quietly liquidate levered positions. The nature of the biz is that most crypto hedge funds are run by true believers and as such, there is very rarely much of a short base on the institutional side. Long only, pretty much.
The tide takes a while to turn in a bear market because allocators and real money flows are slow. You have a meeting in October, another meeting in December, authorize the $40 million disbursement in February and the money gets deployed in March. Flows into and out of hedge funds always lag performance and market prices because there are delays in the process in both directions. You can't just drop money in and take it out on a whim like an ATM. There are gates, lockups, and other measures that mean when an asset class turns lower, it will still see inflows for 3-6 months before the outflows start.
Crypto inflows look to have stopped in April. The outflows are coming soon.
Tracking flows
You can track crypto flows various ways but my favorite way to track flows in any market is to look at the movement of price by day of the month (and sometimes by time of day). Here is the cumulative return of bitcoin by day of the month since crypto peaked in November 2021.
BTC cumulative performance through the month (since November 2021)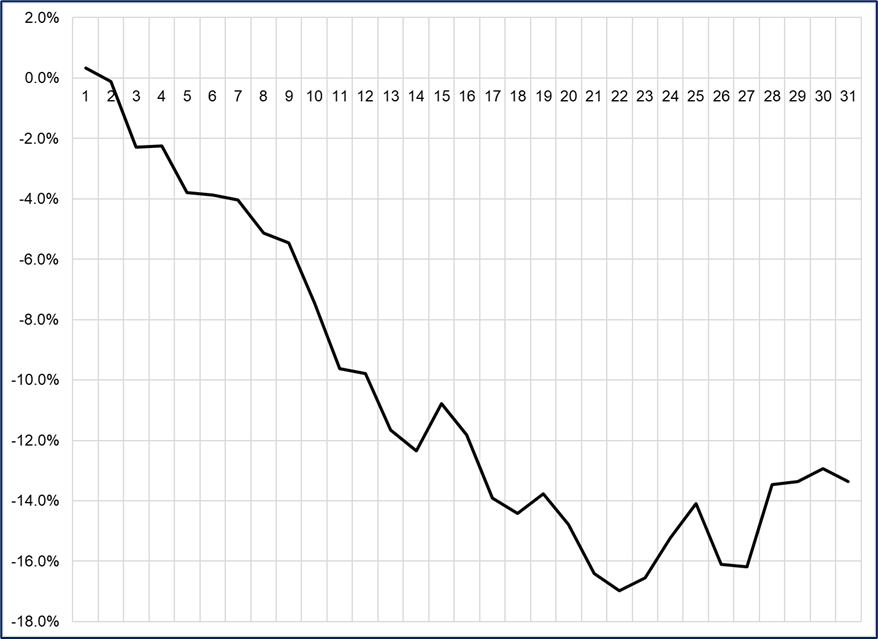 This shows that bitcoin is sold continuously at a steady pace throughout the month but then bounces in the final week. This is most likely new institutional inflows being put to work ahead of the turn of the month. This next chart displays the same idea in a different format. I have circled the last week of each month so you can see how the end of month effect has dissipated.
BTC since November 2021 with end of month circled
You can see that inflows appear to continue until March… and then April and May there's pretty much nada. This is consistent with institutional flow stories such as:
March 29: Institutional crypto funds see largest capital inflows for 3 months
The last big surge of institutional inflows was at the end of March. This is confirmed by news stories, price action, and Coinshares data. Here is that Coinshares data, which shows massive inflows at the peak in late 2021 and a slow move to outflows with the exception of some big inflows at the end of Q1. Those are the last of the late-approved allocations into crypto for a while.
https://blog.coinshares.com/volume-84-digital-asset-fund-flows-weekly-report-72f7fdda557b
Keep monitoring this data, but also watch out at the end of this month as the LUNA debacle, Celsius, 3AC and other scary things could have triggered many withdrawal requests since May and some of those withdrawals will be satisfied as we approach the end of the month, the quarter, and the half.
Quarter end and half-year end are always most important when looking at flows because most gates and redemption agreements are timed around these points on the calendar. Whether it's equities, crypto, bonds, or FX… Quarter end and half-year end are go time for flows.
If BTC can hold the 20000 level through the turn of the month, that would be a super bullish sign. I have been eyeing this 20k level for six months and it's a good level to be adding to long-term bullish exposure BUT… If you are a trader, I would be extremely cautious with longs into half-year end because the volume of outflows to process could be large and those flows are not price sensitive. Those flows will hit literally whatever bid they can.
Flashback
I still remember the Bear Stearns liquidations by JPM in March 2008. Those were a fierce example of how markets can go completely nuts and dislocate completely from correlated variables, oversold signals and so on when forced liquidation happens. The execution person doesn't really care about what bid they hit. The risk manager behind them is yelling: "Just hit a bid!"
In 2008, I was trading EURJPY at Lehman Brothers, and the currency pair was just about 100% correlated to high-yield credit and the S&P 500. The market was in complete disarray. Volatility was at all-time highs. EURJPY was a risky asset proxy so if SPX and HYG went up, EURJPY would go up… 99 times out of 100 (and vice versa). I actively traded these correlations and I still have vivid memories of how boggled my mind was as HYG ripped and EURJPY would just keep getting pummeled by JPM in wave after wave of selling.
EURJPY vs.
HYG
(February to April 2008)
You can see in the chart, EURJPY "should have been" 500 points higher on March 18th, but it got slammed over and over. Finally, once the outflow was done:



Apparently, they sold 10 billion EURJPY over three days as part of an unwind, or something absurd like that. The takeaway here is that forced selling doesn't care what price it trades at, it doesn't care what other markets are doing, and it doesn't care wen Lambo.
Be on high alert for high volatility, forced selling, and potentially nonsensical moves as we approach end of month, end of quarter and the end of H1 over the next 15 days. If crypto can weather the storm—I forecast a period of summery crypto sunshine for early July.
Quick techs
You probably know this, but here's why 20000 matters.
Bitcoin daily, 2019 to now
Massive topside breaks should hold on the retest. If they don't, that's bad. The low so far this week is 20050. Again, if 20000 holds through month end and into early July, that will make me feel super bullish short-term.
Drawdown
High-volatility assets have huge drawdowns. That's a fact. The current BTC drawdown of 71% just about matches the COVID drawdown of 72% but is still some way from the 84% pullback in Crypto Winter I.
Bitcoin max drawdown from 2-year high, 2016 to now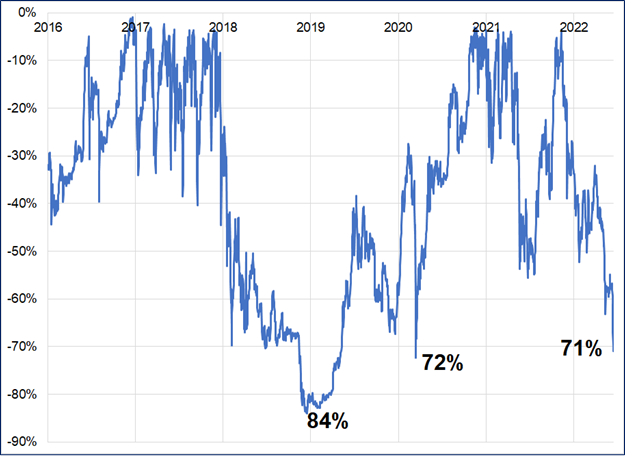 An 84% drawdown off 69000 would put at 11400 in bitcoin.
Risk management is often not a thing in crypto (HODL, diamond hands, etc.), but it's worth keeping in mind that just because BTC came back seven times or whatever in the past, that does not guarantee it comes back the eighth time. The theoretical max downside for assets with no tangible value that do not produce cash flow will always be 100%. Fortune does not always favor the brave, but I do think it will at these levels.
I'm always going to be open to the tiny possibility of a cataclysmic and complete wipeout.
MSTR
BTIG put out a good report on the FUD around the MSTR margin call. Their lofty $950 MSTR price target assumes a BTC price of 95000 at the end of 2023. The note does not reveal the BTC assumption, which seems a bit weird to me. The price of BTC is the dominant driver of MSTR and the lynchpin assumption in any valuation model for that stock. I reached out to the author of the report, and he informed me that they used the 95000 assumption. Anyway, forget the price target and BTC assumption, the more useful takeaway is the discussion of the capital structure and overhyped margin call story.
Market and Trade Ideas Update
The ETHBTC short (see MTC20) is decent in the money now after this week's ETH plunge. My bullish BTC view is on the ropes but I'm trying not to white-knuckle it because it was supposed to be more of a swing trade / investment time frame. But now, suddenly, my stop loss is close. I will stop out at 18700 and reevaluate.
I never run any trade or investment without a stop loss because that's just not how I operate.
Finally, if you are looking for stuff to read, I think The Block's Daily newsletter is one of the best out there. Concise, smart, and useful. This is not a paid promotion; it's just my opinion! I have no relationship with The Block or the author of the newsletter.
That's it! Thanks for reading.
Don't follow the crowd. Don't fight the crowd. Think for yourself.
bd
---
Subscribe to MacroTactical Crypto here
Subscribe to Trader Education (50 Trades in 50 Weeks) here
---
This material is solely for informational and discussion purposes only. Spectra Markets is not a registered investment advisor or commodity trading advisor. This material should not be viewed as a current or past recommendation or an offer to sell or the solicitation to enter into a particular position or adopt a particular investment strategy. Spectra Markets does not provide, and has not provided, any investment advice or personal recommendation to you in relation to any transaction described in this material.
Spectra Markets is affiliated with Spectra FX Solutions LLC, an introducing broker that is registered with the NFA; Spectra FX Solutions LLP, which is a registered entity with the U.K.'s Financial Conduct Authority; and SpectrAxe, LLC, a swap execution facility that is currently in the process of registering with the CFTC. The disclosures for Spectra FX Solutions LLC and Spectra FX Solutions LLP related to the separate businesses of Spectra FX can be found at http://www.spectrafx.com/.
"We do not consider that this commentary constitutes "research" or "investment research" (together "Research") as described in Commission Delegated Directive (EU) 2017/593 ("MiFID Delegated Directive") or referred to in Directive 2014/65/EU ("MiFID II").  However, each recipient remains responsible for determining whether this communication constitutes research and therefore if there are any restrictions on their receipt or use of this communication for the purposes of the MiFID Delegated Directive, MiFID II or otherwise."