MacroTactical Crypto #25
Intriguing Resilience

You can listen to this episode right here.
---
Today's note is 2000 words (8-minute read)
Intriguing Resilience
Before we get started today, some financial comedy and the best reason in the world to be bullish bitcoin right now.
SEC: "We are here to protect you!"
­
Day trading bitcorns on ye olde stock exchange
A friend of mine pinged me yesterday and asked: "What is the best proxy way to trade short-term bitcoin views on a US exchange?" This is a common question as day traders view bitcoin as another product to watch and trade but don't always have a direct way to trade BTC.
Not everyone wants to open a crypto trading account given concerns about comingling of funds, high transaction fees, tax confusion, and so on. Some crypto curious peeps just want to have the crypto trading madness without opening up a separate account, etc. I'm not saying that's right or wrong, it just is.
For what it's worth, my friend made the observation midday Wednesday that BTC was not responding to the fear and loathing in other capital markets and she thought maybe that was a tell. "Maybe all the liquidation in BTC and crypto is done for a bit? Intriguing resilience, no?" Bitcoin went straight up after that, so yes, maybe!
My kneejerk answer to her question on day trader bitcoin proxies was to suggest GBTC or MSTR, so that's what I answered. But later, when I dug a bit deeper, I came up with some other alternatives that could be better. Here's the basic work I did. I'll explain under the table.
Beta, correlation and other stats for US-listed bitcoin proxies
Takeaways:
1.     The miners and MSTR are high-beta BTC. They are the best way to go.
2.     The fourth column (% up / down days match BTC) is simply a test of (check if bitcoin was up or down on the day—then check: was the proxy?). This is similar to correlation but gives a different angle on whether the thing works as a proxy or not. If bitcoin is up and the thing you are trading as a bitcoin proxy is down, you are going to be mad at your thing!
3.     MSTR trades much higher volumes than the miners so if you care about liquidity and consider that the best measure of liquidity, MSTR wins. On the other hand, depending on your account size, you might appreciate the tinier sticker price on some of the miners. BITF, for example trades at $1.29.
4.     I threw in COIN, NVDA and TSLA just for kicks and so that you can see what a proxy looks like vs. a stock that's not a proxy.
5.     BITO and GBTC are lower beta than the miners and MSTR and I don't really see any advantage to trading those if you're a short-term punter.
6.     TSLA volume = insane in the membrane! Obviously, but still, when you see the numbers it's kind of mind-boggling. TSLA is the meme stock that won't die.
In case you are curious to see a more detailed analysis of bitcoin proxies, I wrote a longer report on bitcoin proxies in October 2021. The main output was this next table. I cross-checked, and the correlations in that table are roughly the same as now, though miner correlation to bitcoin has risen a tad:
Bitcoin Proxy Madness from October 2021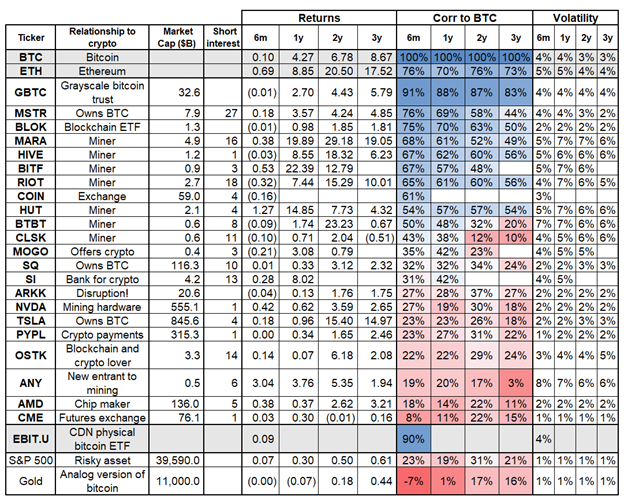 And these were the takeaways at the time (they are all still pretty much true):
1.     GBTC is the most correlated proxy. This makes sense. It has underperformed significantly because it always traded at a premium and now it trades at a discount to net asset value (NAV).
Much as buying GBTC hurt investors who entered at a premium, it could now help those investors who enter at a discount. The risk is that no physical ETF ever comes to the USA, other products flourish, GBTC gets forgotten, and the discount just widens and widens forever. (Note, the discount was 15% then, now it's 30%–the gift that keeps on giving cough cough).
2.     The Canadian physical ETF (EBIT.U, in gray, near the bottom) looks good, and some American investors can buy it. Logically, it should track BTC very closely. There are other physical bitcoin trackers out there too (Switzerland, etc.) but none in the USA.
3.     MSTR and some of the miners are decent proxies. The miners are hella volatile and this has helped them outperform BTC in many cases.
4.     In contrast, the blockchain ETF (BLOK) is much less volatile and has performed much worse than BTC. A good proxy should have high corr and roughly equivalent vol. BLOK doesn't fit.
5.     There is not enough data to judge COIN but its volatility is very low relative to BTC and it looks like a bad proxy. The low vol can be addressed with leverage if you really want, but it's getting way too complicated at that point.
6.     Typical larger caps that enter the conversation when it comes to BTC are not good proxies. TSLA, SQ, PYPL, NVDA, etc. are much too large and run diversified businesses. Their bitcoin dabbles don't move the needle.
7.     Did you know Ethan Allen furniture changed their ticker from ETH to ETD recently to alleviate confusion because people were buying it thinking they were buying ethereum? That is funny.
8.     Gold vs. BTC corr has flipped as investors switch out of BTC and into gold. There is ample evidence to confirm this in the flow data, though I know there are people that do not believe this story. I do.
---
The title of the previous section included "Day trading bitcorns on ye olde stock exchange." Did you know that "ye" is pronounced "the"? Read about it here (nerd).
---
NFT Winter
The noise around Web3 has subsided somewhat and the haters are in the driver's seat for now. That's reflexivity as lower prices wash out the dumbest projects, bankrupt FOMO-driven "investors", and raze the forest of trees that can't grow to the sky.
But burbling calmly through the raging forest fire of charred capital is a stream of good ideas that has not dried up. It waits for the flames to go out and the next rush of liquidity to refill it back into a raging river of optimism. NFT adoption is aggressively skewed by age and current actuarial studies show young people are set to live longer than old people. NFTs aren't going away.
US ownership of NFTs by age and gender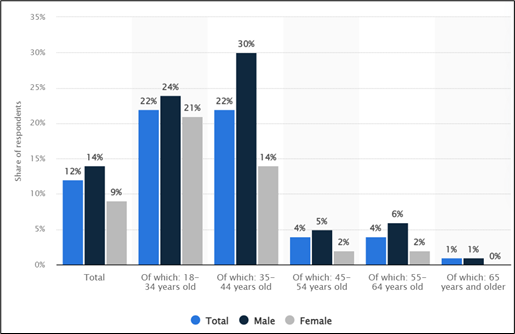 Before we talk about reason for NFT optimism, let's take a look at the price performance through the recent crypto carnage. Everyone knows BTC went from 69000 to 20000 and ETH is down from 4800 to 1000. But what about Crypto Punks and all that stuff?
First, a quick look at NFT dollar volumes from theblock.co (an excellent website and a very good free newsletter).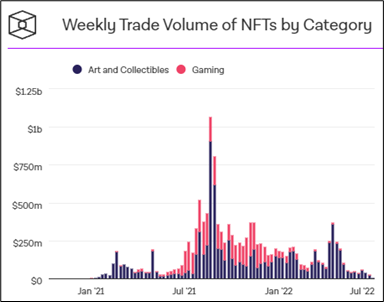 Transaction volumes paint a similar, but slightly less Antarctic picture of NFT Winter: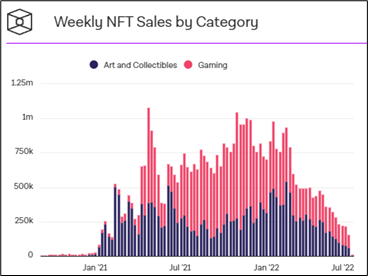 USD NFT prices are down to wayyy down, for example check out this series of transactions for the most recent CryptoPunk to trade: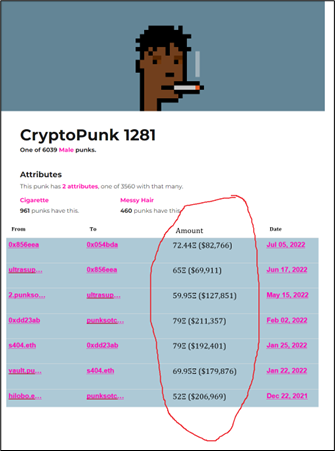 https://cryptopunks.app/cryptopunks/details/1281
That's just a random sample of one, so here is the CryptoPunks price floor chart (in $ and ETH):
CryptoPunks average sale price (USD and ETH)
Chart by me, with data from cryptoslam.io
Let's drill a bit deeper and look at $ and ETH CryptoPunk price separately, along with volumes:
CryptoPunks floor price in $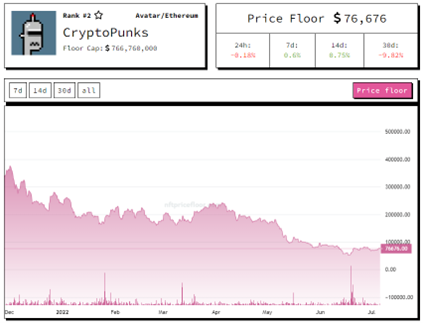 https://nftpricefloor.com/cryptopunks
But perhaps what's more interesting is that we may have hit some sort of elasticity point where fiat buyers have emerged. While $ prices bottomed on high volume in June, this was while ETH was collapsing which means the floor price in ETH (same chart as the one I just showed, but in ETH) looks like this:
CryptoPunks floor price in ETH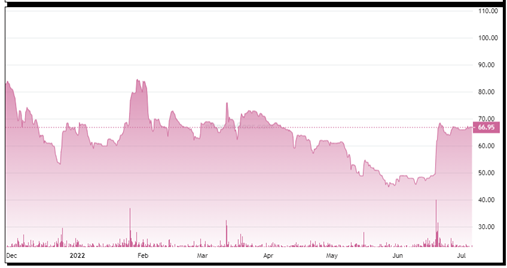 Some sort of marginal $ buyer seems to have appeared here.
In my book on the mindset, methodology, and mathematics of professional trading, Alpha Trader, I call that setup "volume spike at price extreme". It's bullish. Here's what a volume spike at price extreme looks like in TradFi currency world because I know you are desperate to see a snapshot of the Norwegian Krone's big fat bottom in 2020.
EURNOK hourly, April 2020 to September 2020
Bottom pane shows EURNOK volume
Chart courtesy of Refinitiv
A big turn in price on high volume is unambiguously bullish and if I was a CryptoPunks trader I'd definitely be long, not short. The chart of Bored Ape floor prices is flatter because they appreciated much more than CryptoPunks for a while and there has been some recent FUD around the project so that might have dampened enthusiasm.
bdonn.eth fr no cap
According to my degen friend YH, one area that has been en fuego despite the broad malaise in NFTs is ENS names. The rush to buy ENS names is reminiscent of the dotcom rush to buy domain names and I will say that most of the buyers of those domains did very well! It wasn't really a bubble, it was just a bunch of cheap assets that skyrocketed in price. Not everyone that parked a domain name got rich, but many did.
Here is a quick explainer on ENS names from forkast:
---
What is ENS?
In a nutshell, ENS is a name and lookup service built on the Ethereum blockchain that allows crypto users to translate their machine-readable addresses to human-readable addresses. Think of it as a nickname generator for public Ethereum addresses, aiming to make crypto more accessible.
Say your friend wants to pay you back for dinner in cryptocurrency. To do so, you must share your Ethereum public address made up of 42 hexadecimal characters, which might look like "0xDC25EF3F5B8A186998338A2ADA83795FBA2D695E." This is the equivalent of your IBAN, enabling others to send crypto to your wallet. With ENS, you can create a "nickname" for your public address, so instead of sharing that complicated string of characters with your friend, you'll have a link, like "Rick.eth" — which is automatically connected to your public address.
---
Here is an article:
Most Expensive 3 Digit ENS Sales of All Time – the 999 club
Here is my ENS that I bought because this sort of thing gets me excited:
Conclusion
There are tentative bullish signs. Green shoots, if you will. CryptoPunks are bottoming on high volume, the SEC has authorized a short bitcoin futures ETF lol bullish, FTX is JPM, and LUNA, 3AC and other fetid and overlevered speculators look like they've been fully absorbed and successfully liquidated by the crypto ecosystem.
Crypto markets look suspiciously resilient down here.
It might not be the end of winter yet, but maybe we're in for a warm spell in July.
Final Thoughts
Please join me in welcoming Justin Ross to Spectra Markets. He is here to add his voice and help me build the business in the years to come and he helped me research this piece.
Justin is a 32-year-old resident of Ohio, and his two main interests are financial markets, and helping people. He's also a musician and an excellent writer. You can read his Substack here.
That's it! Thanks for reading.
PROGRAMMING NOTE: I'm going home to see my family in Canada next week (for the first time since before COVID, grrrr…) so MTC returns the week of July 18.
Don't follow the crowd. Don't fight the crowd. Think for yourself.
bd
---
Subscribe to MacroTactical Crypto here
Subscribe to Trader Education (50 Trades in 50 Weeks) here
---
This material is solely for informational and discussion purposes only. Spectra Markets is not a registered investment advisor or commodity trading advisor. This material should not be viewed as a current or past recommendation or an offer to sell or the solicitation to enter into a particular position or adopt a particular investment strategy. Spectra Markets does not provide, and has not provided, any investment advice or personal recommendation to you in relation to any transaction described in this material.
Spectra Markets is affiliated with Spectra FX Solutions LLC, an introducing broker that is registered with the NFA; Spectra FX Solutions LLP, which is a registered entity with the U.K.'s Financial Conduct Authority; and SpectrAxe, LLC, a swap execution facility that is currently in the process of registering with the CFTC. The disclosures for Spectra FX Solutions LLC and Spectra FX Solutions LLP related to the separate businesses of Spectra FX can be found at http://www.spectrafx.com/.
"We do not consider that this commentary constitutes "research" or "investment research" (together "Research") as described in Commission Delegated Directive (EU) 2017/593 ("MiFID Delegated Directive") or referred to in Directive 2014/65/EU ("MiFID II").  However, each recipient remains responsible for determining whether this communication constitutes research and therefore if there are any restrictions on their receipt or use of this communication for the purposes of the MiFID Delegated Directive, MiFID II or otherwise."