Oddly satisfying or possibly
anxiety inducing, depending
on your default mode…
---
Current Views
---
Short CHFJPY @ 156.70
Stop loss 160.26
Take profit 150.16
Long 23JUN 153.50 CHFJPY put
Cost ~25bps
Long 18JUL 152.00 CHFJPY put
Cost ~35bps
Long USDCAD @ 1.3436
Stop loss 1.3244
Take profit 1.3644
June 15, 2023
---
CHFJPY is having a moment
---
In case you didn't notice, CHFJPY has gone completely berserk and is now back to where it was when James Earl Carter was president of the United States. What a trip.
CHFJPY weekly, 1972 to now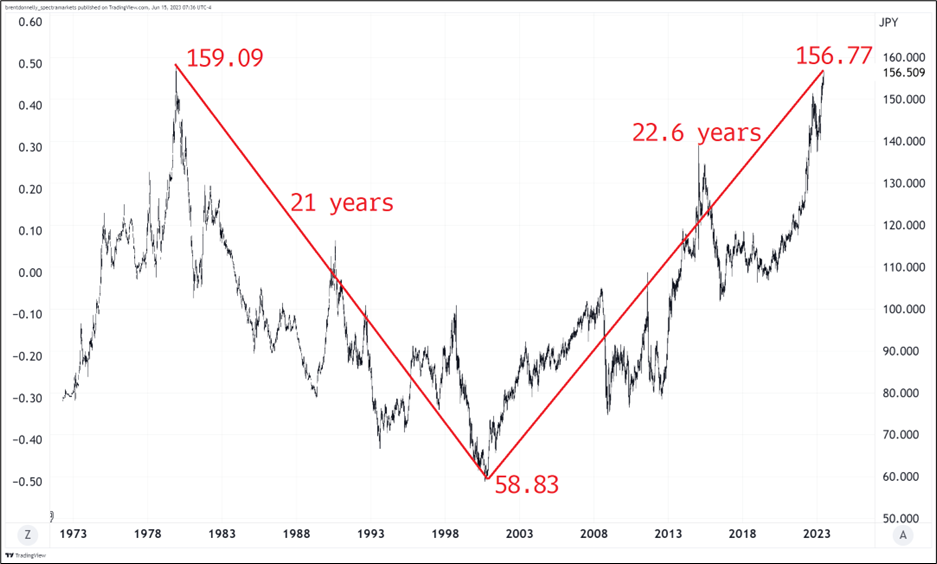 This is an interesting moment for CHFJPY for three reasons.
One: It's wickedly overbought. This chart shows the moments it's been 25% above the 200-week moving average. The cyan on the bottom panel is spot minus the 200-week and the red vertical bars are the times it was 25% above, like now.
CHFJPY weekly (top panel), deviation from 200-week MA (bottom panel)
Two: The SNB looks overpriced to me. Jordan made some comments May 31 and June 8 that suggest the SNB needs to do more, and the market took it to mean that 50bps is on the table. I doubt 50 bps is on the table. Current pricing has 35bps priced for the June 22 meeting and another full hike in September. I am not convinced the inflation situation in Switzerland justifies much more hiking.
Core inflation in Switzerland has dropped below the SNB's 2% ceiling and peer inflation is coming off hard (Germany, Belgium, etc.). Here is a chart from Bloomberg:
Swiss inflation (
headline

and

core

)
So while many central banks like the Fed are optimistically extrapolating downward momentum despite inflation wildly above target, the SNB has both momentum and level on their side. The currency is strong, they have put a lot of effort into slowing inflation, and it's working. The risk soon will be that the SNB does too much, not too little, and they're back in the deflationary malaise that defined the 2010's.
Note that the structural nature of inflation in Switzerland is completely different from most other countries. They have extremely high prices to start with, and many prices are regulated / capped.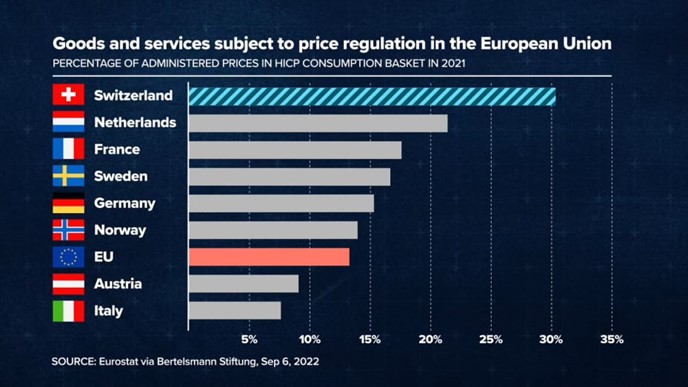 Three: BOJ tonight has the potential to surprise. Expectations are low, and there is a perfect window for them to make a modification to the decade-old aggressive monetary easing program. The JPY is weak, the Nikkei is on fire and twice in a row now the MOF has signaled irritation with USDJPY around 141. This is from overnight:

With little priced in, Ueda has a nice opportunity to get the aircraft carrier turned three or four degrees away from max easing. While options markets have a premium for BOJ and SNB, neither premium seems too high given how much CHFJPY is flying around and how much the JPY could move on a surprise from the BOJ.
There are three ways to play it:
Buy 8-day (23JUN) 153.50 CHFJPY put for around 25bps. This may be difficult to execute as it's illiquid.
Buy 1-month (18JUL) 152.00 CHFJPY put for around 35bps.
Sell spot here (156.75) with a stop at 160.26. Primary target is 150.00 but if this is the turn, you could also get more piggish if you like when it starts moving lower.
These option prices are ballpark off 156.70 spot. Spot is flying all over the place hence the different MTM on the spot trade in sidebar. I updated that at the last second before sending am/FX, but there's no point updating the option prices with that much precision as they are just ballpark anyway. I like all three of these ideas equally so I'm putting all three in the sidebar. Normal risk would be split in three so let's say I normally risked $600k on a five-star idea I would be doing $200k on each for a total of $600k. Not $1.8 million of P&L risk.
---
Final thoughts
---
I still think EURSEK has a date with 12.00, though it's getting boring.
I still think USDCAD will hold the bottom of the range and go higher.
US Initial Claims data is getting harder to ignore. If this rise in claims is real, I think the MXN carry trade will be threatened at some point because the onshoring and remittances stories both rely somewhat on a strong US labor market and strong US consumer.
I am off to visit family for a bit so am/FX returns 23JUN23. Have a fun week next week.
good luck ⇅ be nimble
---